Turner Contemporary launches Southeastern travel wallets in celebration of Turner Prize
In collaboration with Southeastern, Turner Contemporary has created a series of limited edition travel wallets to commemorate Turner Prize 2019 coming to Margate.
The ticket pass holders come in four colours: pink, blue, lilac and orange, and feature the wave design that can be seen across the Turner Prize 2019 branding.
The four shortlisted artists – Lawrence Abu Hamdan, Helen Cammock, Oscar Murillo and Tai Shani – are all named on the card cases, which also feature the Turner Prize 2019 logo in the shape of Turner Contemporary's iconic building. The design also reflects Margate's infamous crashing waves.
Want to get your hands on one? All you have to do is like this Instagram post, then present your train ticket to one of our members of staff when you arrive at the gallery to get your own limited edition Turner Prize themed ticket wallet*.
The train ticket can be from anywhere to Margate, whether you've travelled from a local Thanet or Kent station, or come from further afield. Alternatively, if you're a Margate resident then you can like the Instagram post and show proof of CT9 residency when you come to collect your wallet.
(*available whilst stocks last)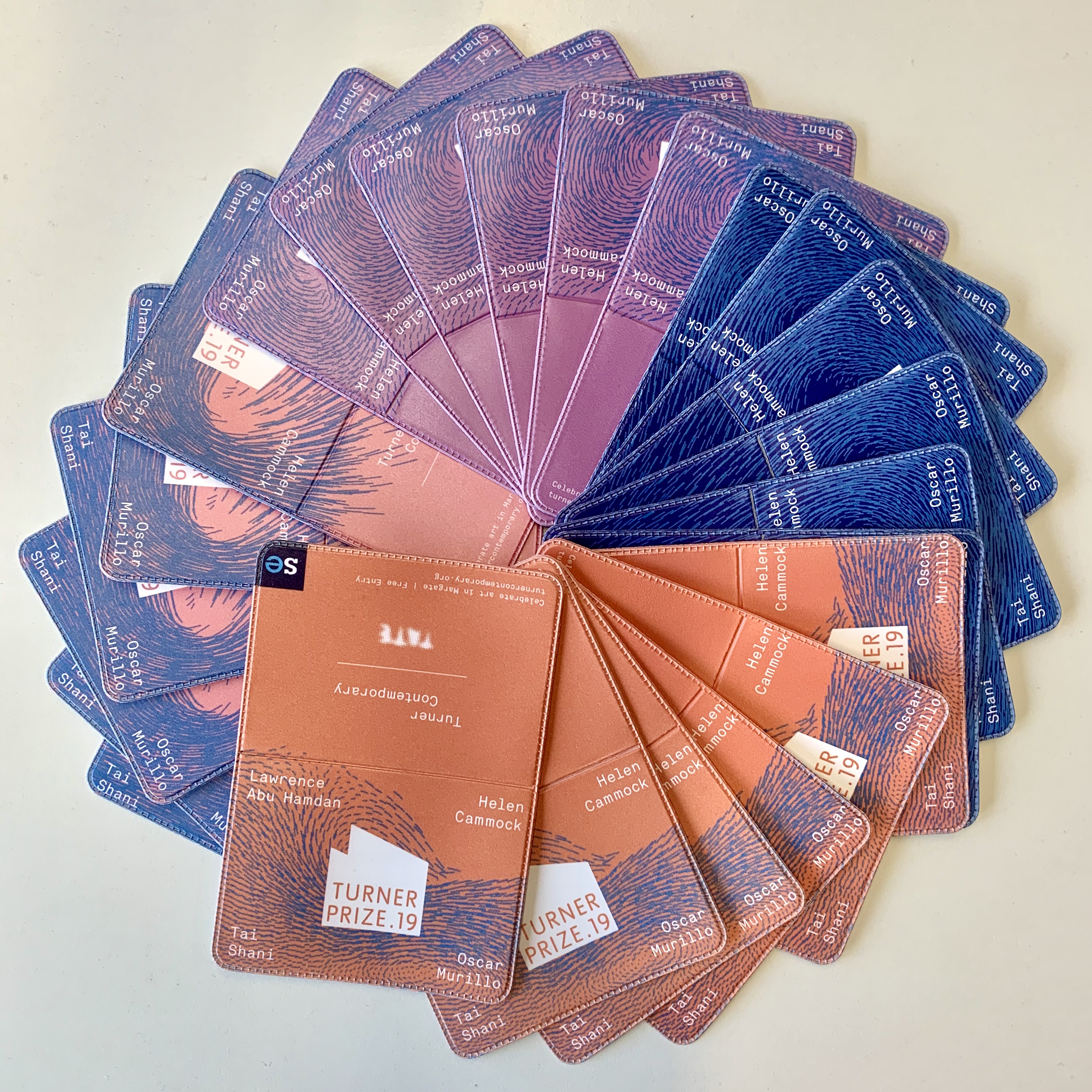 The exhibition launched at Turner Contemporary on 28 September 2019 and will be held there until 12 January 2020. The winner will be announced on 3 December 2019 at an award ceremony broadcast live on the BBC as the official broadcast partner for the Turner Prize.
One of the best known prizes for the visual arts in the world, the Turner Prize aims to promote public debate around new developments in contemporary British art. Established in 1984, the prize is named after JMW Turner (1775-1851) and aims to promote public interest in contemporary British art. It is awarded to an artist born or based in the UK for an outstanding exhibition or other presentation of their work in the past twelve months. The Turner Prize award is £40,000 with £25,000 going to the winner and £5,000 each for the other shortlisted artists.
It is the first time that the venue for the Turner Prize, outside of London, has had a direct connection with JMW Turner. Turner Contemporary stands on the site of the artist's lodging house and enjoys views of the skies that Turner felt were 'the loveliest in all Europe'. Turner Contemporary is working with partners across Kent to make Turner Prize 2019 an unforgettable moment for audiences from Margate, Kent and beyond. Entry to Turner Prize 2019 is free. Turner Contemporary is a charity, receiving public funding from Kent County Council and Arts Council England.
Turner Prize 2019 is supported by AKO Foundation, Eurotunnel, BNP Paribas, Southeastern, Canterbury Christ Church University, Lord Browne of Madingley and Lance Uggla, with additional funding from Kent County Council.