Community Rail Partnership
For Communities
The Creative Isle Community Rail Partnership is a collaboration between Turner Contemporary, Southeastern, and Thanet District Council. We aim to welcome visitors to Thanet and offer a voice for the community through art and creativity, enabling local organisations and groups to work together to animate railway stations and trains. 
The Partnership covers the line and all seven stations on the route in Thanet – Birchington-on-Sea, Westgate-on-Sea, Margate, Broadstairs, Dumpton Park, Ramsgate, and Minster. In addition to encouraging sustainable travel by train, we also strive to promote the use of Thanet's many cycle networks. To achieve this, we work with the Bikeability Trust and Kent Coast Volunteering to involve as many people as possible from the local area. 
This page highlights the work we are doing as an organisation and incorporates the four pillars of the Department for Transport's Community Rail Development Strategy: 
Providing a voice for the community

Promoting sustainable, healthy, and accessible travel

Bringing communities together and supporting diversity and inclusion

Supporting social and economic development
The full strategy can be found at: www.gov.uk/government/publications/community-rail-development-strategy  
 The Community Rail Partnership is generously supported by Southeastern .
Creative Isle Projects - Current Projects
Find out about current artworks and projects created for the Community Rail Partnership. More coming soon.
Creative Isle Projects - Past Projects
Find out about previous artworks and projects created for the Community Rail Partnership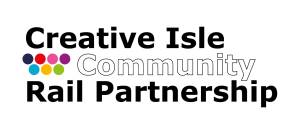 Supported by: