Accessibility
Get in touch
To help plan your visit or to discuss your individual needs, please contact us and we will be happy to help.
info@turnercontemporary.org | 01843 233 025
Public transport
Turner Contemporary is approximately a 15 minute walk along the sea front from Margate train station.
Central Cars has accessible taxis and are contactable at 01843 888 888. Pre-booking is essential.
Parking
There is no parking available at the gallery, however there are seven accessible parking bays available directly outside, for people with appropriate permits only.
Pay and Display parking is available just opposite the gallery on the harbour arm. Alternative pay and display carparks:
College Square (Morrison's multi storey) CT9 1QA
Trinity Square CT9 1HR
Free parking every Saturday at Mill Lane Car Park, Margate CT9 1JU

Wheelchair users and customers with reduced mobility
Turner Contemporary is wheelchair accessible, with step free access and a lift serving both floors. An access ramp is located to the right of the entrance steps, please look for appropriate signage.
Wheelchairs are available for visitor use. Please call ahead if you would like to book one.
Seating is available throughout the Gallery. If you would like to use a portable stool, please ask a member of staff.
Please ask a member of staff for assistance if required in the shop. Some merchandise is located on high shelves. There is a lowered section at the welcome desk.
Visitors who are deaf or have a hearing impairment
Large print versions of all wall texts are available.
To join one of our BSL tours, please click here.
Visitors who are blind or have a visual impairment
Magnifying sheets are available at the front desk.
The lighting throughout the gallery changes depending on the exhibition. Please contact us before your visit, or talk to a member of staff for more information.
Visitors with SEN or additional learning needs
Ear defenders are available on request.
Help yourself to the learning resources and sensory objects from the learning structure, located in the Sunley Gallery.
Due to the nature of contemporary art, sometimes the content of the exhibition can be distressing or inappropriate for some audiences. Please contact us for more information.
Toilets
Accessible toilets, baby change facilities and separate male and female toilets are located off the Foyle Room Corridor.
There is a gender neutral, accessible toilet located within the café.
Please ask staff for directions.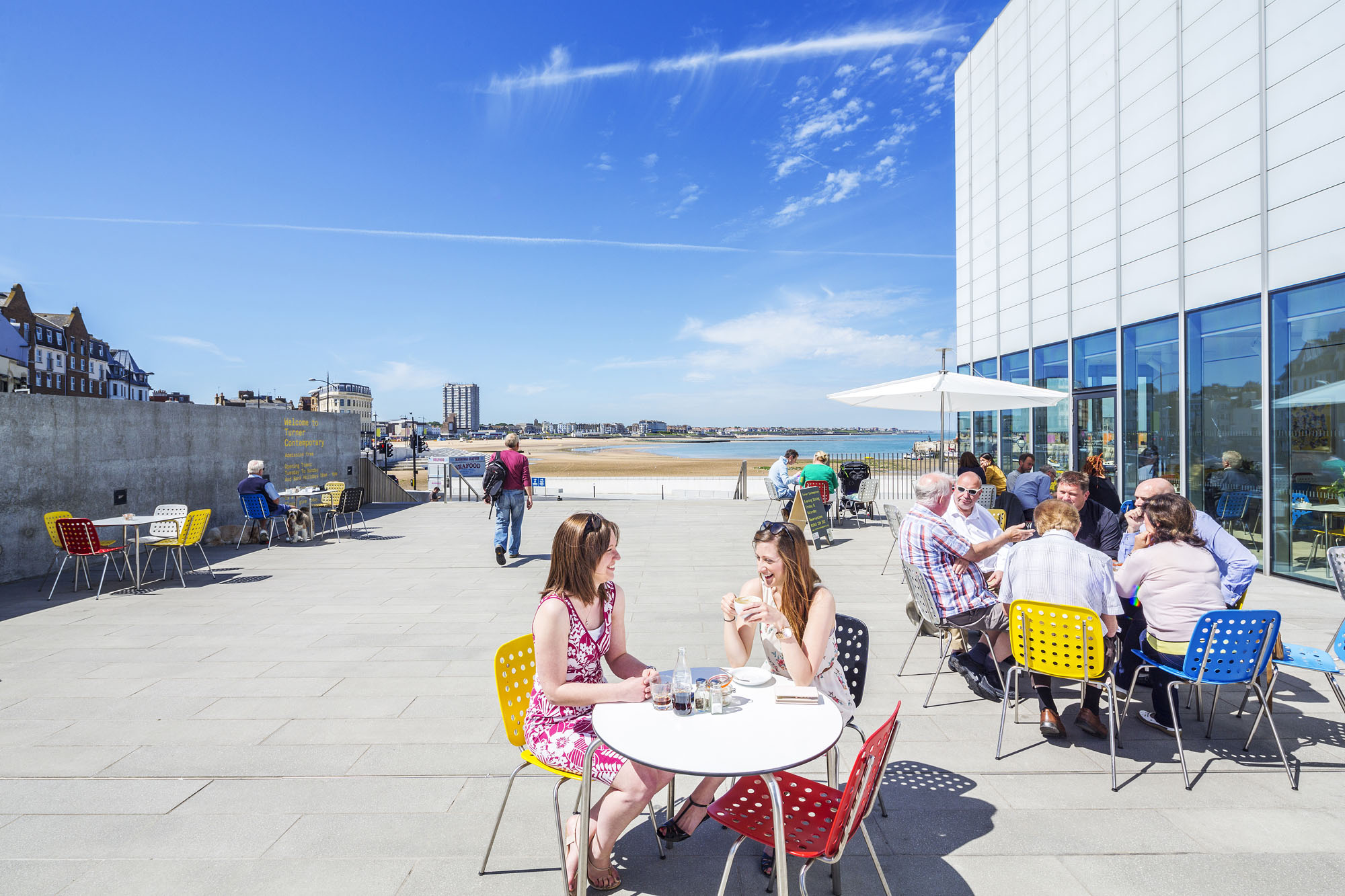 The Café (Ground Floor)
All allergy information is available from the café staff. Please inform the café before ordering if you have any specific dietary needs.
Café staff are happy to rearrange tables and chairs for individual needs. The counter is mid-level but all menus are displayed clearly and are visible from a seated position.
All registered service animals are welcome to the gallery
Access tours and Quiet Hours
We offer free tours for all visitors throughout each exhibition. They include:
BSL (British Sign Language) tours
Audio Described tours
Daily highlight tours
For information on Quiet Hours and tours, please contact us directly.
If you have any questions or need further information about your visit please get in touch with us and we will be happy to help.
info@turnercontemporary.org | 01843 233 025