In The Offing
First Floor Galleries
A group exhibition edited by and featuring Mark Leckey.
Turner Contemporary presents In The Offing, a group exhibition devised by renowned Turner Prize-winning artist Mark Leckey (b. 1964, Birkenhead). Embracing a dual role in this exhibition, Leckey serves as both artist and editor, utilising the concept of a magazine editorial as his foundation to choreograph an experience that seamlessly blends moving image, sound, light, and painting throughout the galleries. The phrase 'in the offing', dating back to the late 1700s, evokes the image of the distant sea visible from the shoreline and carries a sense of anticipation and foreboding, hinting at what lies on the horizon. Leckey has commissioned artists and musicians to make work responding to this title and will himself present a new video. The exhibition is the culmination of a multi-year project generously funded by Freelands Foundation as the Principal Supporter.
Since the late 1990s, Leckey's influential practice has explored the relationship between popular culture and technology, and ideas around youth, class and nostalgia. Over the past six years Leckey has hosted a programme on NTS Radio presenting experimental music by emerging and established artists, several of whom will be featured in the exhibition alongside visual artists. The commissions will encompass themes of the horizon, the seaside, the past and the future, and will resonate with the wider social and political context of British coastal towns. Also inspired by Dreamland – the amusement park and music venue on Margate seafront – Leckey's immersive approach in programming moving image, sound and light to appear and flow throughout the exhibition spaces, will give visitors the experience of both a gallery and fairground attraction.
Participating artists will include ANGUSRAZE, Lucy Duncombe, Theo Ellison, Ashley Holmes + Seekersinternational, Darren Horton, Mark Leckey, Lost at Sea Project, nakaya mossi, Charlie Osborne, Alessandro Raho, Hannah Rose Stewart + Blackhaine, and Iceboy Violet.
The exhibition will be curated with Melissa Blanchflower, Senior Curator, Turner Contemporary and will be accompanied by a live programme, details of which will be announced soon.
Clore Learning Studio
Over the course of two years, the Emerging Producers have worked with Turner Contemporary to help research, develop and deliver a series of programmes. For In The Offing the group has worked alongside the gallery's Learning team to re-design the Clore Learning Studio space to create a hub for creativity, designed for young people of all ages to relax, reflect and experiment. This Creative Estuary Co-commission takes the form of a playfully designed space which takes inspiration from faded seaside resorts with a contemporary twist. During the autumn 2023 season, the space will host art workshops and the Children's Art Library during the day, turning into a music venue for emerging local talent on selected evenings, also programmed by the group.
The Emerging Producers are: Oliver Castle, Layla Crick, Oliver Fisher, Daniella Jasper, Miroslava Karaskova, Eridanus Kyren, Phillipa Raye and Stuart Rayner, led by Jennifer Scott, Learning & Engagement Manager at Turner Contemporary.
Arts Education Exchange Music and Video Lab
Following on from Leckey's Music and Video Lab run with CAST, Cornwall, in summer 2022, Turner Contemporary has partnered with Arts Education Exchange to deliver a Lab in Margate. The initiative is designed to create a space for experimentation and discovery through video editing, music production and digital media for young people aged between 18 and 25 years. The short course will run during In The Offing and in collaboration with AEE Tonetic Records, a youth-led record label, introducing musicians and industry professionals to young people and providing mentoring and masterclasses. Outcomes of the Music and Video Lab will be showcased via NTS Radio and at Turner Contemporary.
As part of In The Offing, Leckey conceived and hosted Salamagundy '22  in December 2022 – a Variety Show which brought an eclectic line-up of artists to Dreamland's iconic Roller Room to explore ideas around modern entertainment and contemporary art practice. The event was a Creative Estuary Co-commission, delivered by the Emerging Producers, a group of eight local young people, selected as part of Creative Estuary's Re:Generation 2031 programme which provides employment and skills development in the creative industry.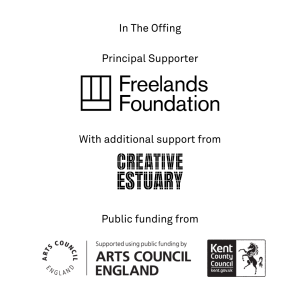 Mark Leckey

Mark Leckey (b. 1964, Birkenhead), is a contemporary artist working with a variety of media including film, sound, sculpture and performance.
View full biography