Ingrid Pollard: Carbon Slowly Turning
Turner Contemporary presents the first major mid-career survey of Ingrid Pollard. The exhibition will include works in film, photography, sculpture and installation.
Guyanese-born British artist and photographer Ingrid Pollard's Turner Prize-nominated exhibition Carbon Slowly Turning will be presented at the gallery this summer (9 July – 25 September 2022). Created In partnership with MK Gallery, Milton Keynes, this is the first exhibition to fully explore Pollard's experimental works, from the 1980's to the present day.
The exhibition, which will span Turner Contemporary's first-floor galleries, is Pollard's first major survey and examines her substantial contribution to British art. Her work explores how images and identity are constructed, especially in representations of history and the landscape, working with film, photography, installation and sound. Neither a retrospective nor a chronological display, this exhibition interrogates Britishness, race and sexuality.
Turner Contemporary will exhibit an exclusive series of black and white photographs titled 'Bursting Stone' and the prints commissioned and shown at Glasgow Women's Library of Lesbian marches.
The exhibition will also feature Bow Down and Very Low -123, (2021) a series of 3 kinetic sculptures made with found objects, in collaboration with Kinetic Artist, Oliver Smart. In her research and investigation of the body in action and in repose, Pollard has worked with film archives and contemporary media to create, collaboratively, a new kinetic sculpture incorporating three 'characters'. Using the familiar gesture of bowing and curtseying, Bow Down and Very Low -123 references our shared history of power relations and resurgence.
Clarrie Wallis, Director of Turner Contemporary, said:
We are delighted to be hosting such a thought-proving survey of Ingrid Pollard's. Since the 1980s Pollard has developed a practice centred on issues of representation and history within the context of the British landscape. Her work across photography, sculpture, film, and sound will be celebrated in our first-floor galleries at an exciting time when Ingrid is also nominated for the Turner Prize.
British Sign Language Exhibition Overview
Organised by Turner Contemporary, in partnership with Milton Keynes Gallery.
The exhibition is supported by Freelands Foundation and the Freelands Award 2020.
Ingrid Pollard

Ingrid Pollard (born Georgetown, Guyana) is a photographer, media artist and researcher and one of the leading figures in contemporary British art. Pollard is a graduate of the London College of Printing and Derby University. She has developed a social practice concerned with representation, history and landscape with reference to race, difference and the materiality of lens-based media. Her work is included in numerous collections including the UK Arts Council Collection, Tate and the Victoria & Albert Museum. Pollard is one of four artists nominated for Turner Prize 2022.
View full biography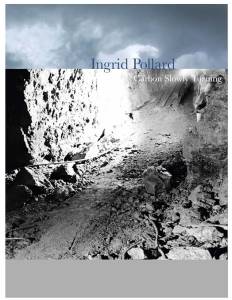 You can now order your copy of the exhibition catalogue and pick it up from our shop when you visit the gallery using 'Click and Collect'.