Sonia Boyce: Feeling Her Way
First Floor Galleries
Turner Contemporary is pleased to present Sonia Boyce's exhibition Feeling Her Way, which won the Golden Lion for Best National Participation at the 59th International Art Exhibition – La Biennale di Venezia 2022.
Commissioned by the British Council for the British Pavilion, the installation combines video, collage, music and sculpture to present a body of work that centres around the vocal experimentation of five Black female musicians.
Featuring Jacqui Dankworth, Poppy Ajudha, Sofia Jernberg, Tanita Tikaram, and composer Errollyn Wallen, these intergenerational musicians were brought together by Boyce at Abbey Road Studios in London and Atlantis Studios in Stockholm to improvise, interact and play with their voices. Colour-tinted video works take centre stage among tessellating wallpapers, created by Boyce, and golden 3-D geometric structures, which immerse the audience in the work through their highly reflective surfaces.
Exhilarating improvisation makes new listeners of us all.
Financial Times
The commission expands on Boyce's 'Devotional Collection', built over 20 years and spanning more than three centuries, which honours the substantial contribution of Black British female musicians to public life and transnational culture.
Sonia Boyce said: "I am so excited Turner Contemporary will be hosting Feeling Her Way for the first leg of the exhibition's tour. To see the evolution of this project back in the UK feels incredibly significant to me, especially in Margate, which is coming into its own as a dynamic cultural hotspot."
Clarrie Wallis, Director of Turner Contemporary, said: "Turner Contemporary is delighted to collaborate with the British Council on the tour of Sonia Boyce's exhibition Feeling Her Way. This joyful, ambitious installation celebrates female creativity and collaboration – of finding a voice – and we look forward to presenting it in Margate next spring."
With the support of the Art Fund, the exhibition will run from 4 February – 8 May 2023, before touring to Leeds Art Gallery from 25 May – 5 November 2023.
Feeling Her Way by Sonia Boyce OBE RA was commissioned by the British Council for the 59th International Art Exhibition – La Biennale di Venezia, 2022.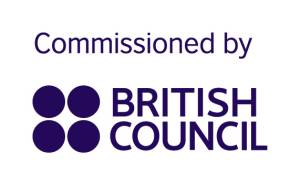 UK Tour supported by

About Sonia Boyce

Sonia Boyce OBE RA (b. 1962, London, UK) emerged in the 1980s as a key figure in the Black British art movement.
View full biography