New major artwork by renowned artist Conrad Shawcross commissioned by local school children to launch in Ramsgate this September
As part of Pioneering Places East Kent – the largest of the national Great Place Schemes, supported by Arts Council England and National Lottery Heritage Fund – Conrad Shawcross will debut Beacons, a new artwork formed of sculptures commissioned by local primary school children in Ramsgate on the 30th September.
Believed to be the largest scale artwork to have been commissioned by children, the sculptures are a culmination of Pioneering Places, an ambitious multi-year project happening across East Kent, led by Creative Folkestone, to encourage people to get involved with cultural organisations and shape the place where they live. The sculptures will now be installed as part of Turner Contemporary's 10th anniversary programme.
Since 2018, over 70 local children from Ramsgate Arts Primary School and St Laurence-inThanet Church of England Junior Academy have led this project in collaboration with Turner Contemporary. The 8-10 year olds commissioned critically acclaimed artist Conrad Shawcross to create the sculptures which will be installed on Ramsgate's East Cliff in September and remain for a year.
The sculptures are formed of four impressive structures, each comprises a metal tripod supporting a coloured, perforated disc at the top. Responding to the themes identified by the children, play and playfulness, caring and modern machinery, Beacons also addresses notions of signalling and messages, with a concealed word hidden within the design, based on a coded alphabet devised by the children. The word HOME was chosen by the children to be the message that the beacons send out to sea. This follows the children's work exploring Ramsgate's maritime heritage and the history of its famous Royal Harbour – the only designated Royal Harbour in the UK, which will celebrate its 200th anniversary this September. HOME represents what Ramsgate meant to the children and also provided a message of welcome and warmth to anyone arriving in the town by sea or land.
The sequence of structures are modular in design so that they can be placed on any seafront and incorporate a hand-driven mechanical system which turns the disks inviting interaction to animate the sails. The materials used reference those that can be found in the surrounding area of the Royal Harbour, such as the steel used in shipbuilding, as well as hard wearing materials like powder-coated and galvanised steel. The official launch event for the sculpture will take place in Ramsgate near the historic Ramsgate bandstand on Thursday 30 September.
Conrad Shawcross says: "It was so rewarding to work with the children of Ramsgate on this unique child-led initiative, the project has been an odyssey in itself and I cannot wait for both the children and the town to finally see these pieces up!
"We set ourselves the challenge of trying to make the most visually arresting coded system – adopting navigational languages of the past namely semaphore and exploring moray patterns and how they work. The children and I embraced scale, colour and movement to create a series of mechanical devices that send a message of hope and welcome as far as possible out into the sea."
The group very much enjoyed discussing Homer's Odyssey and other myths. Excitement was sparked around the voyages of discovery, being lost and how to find your way home.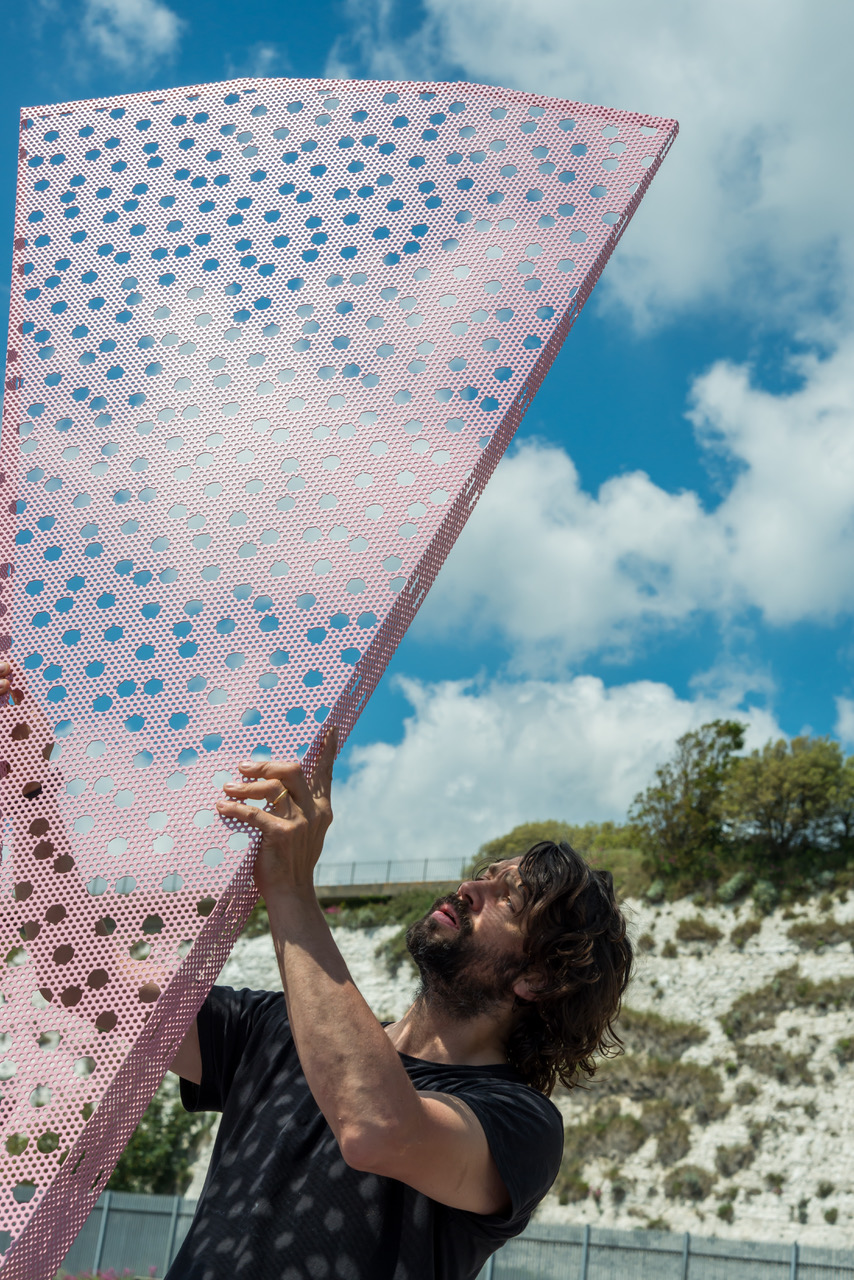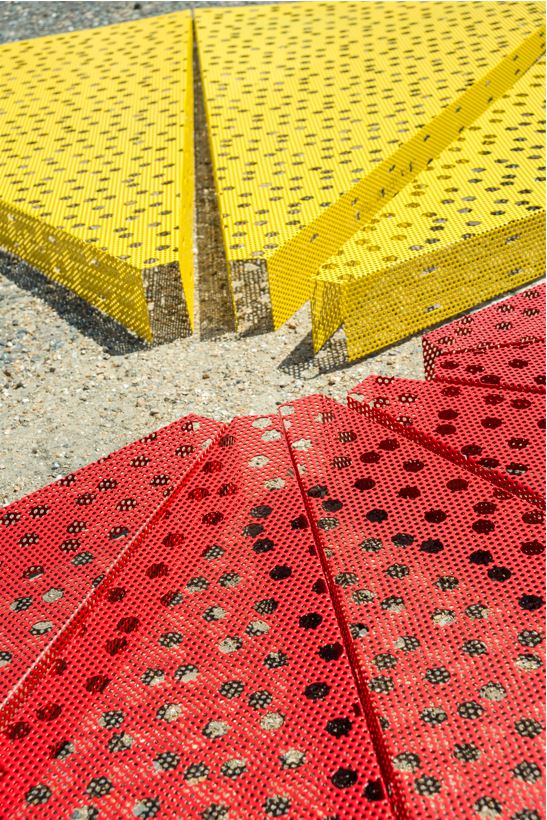 Conrad has completed a number of major public commissions across the world and is a member of the Royal Academy of Arts. In 2011 Conrad was one of the first artists to be shown at Turner Contemporary as part of its inaugural exhibition.
He comments: "This exhibition was a wonderful moment for me and I loved responding to the restrained rooms created by David Chipperfield. My show then, entitled three projections of a perfect third was a breakthrough exhibition for me. I reel when I think how much the world and our collective reality has changed in the last ten years."
In addition to working with Shawcross, the children have also collaborated with Turner Prize winning collective Assemble who were commissioned to create a toolkit which aims to inform planners, decision-makers and those in the education and creative sectors about how children can positively contribute to placemaking.
Victoria Pomery, Director of Turner Contemporary says: "We are thrilled to have collaborated with artist Conrad Shawcross and Ramsgate school children to realise this incredible work. This ambitious project, involving many individuals and organisations, is a beacon of creativity. The dialogues between artist and children have impacted on the creation of these sculptures and we are overjoyed with the final outcome. We are delighted that this commission is being installed in Ramsgate and are grateful to the support of all our funders in particular Heritage Lottery Fund and Arts Council England and for the input of Shawcross and the children."
Cllr Ash Ashbee, Leader of Thanet District Council said: "We are delighted to have been able to help facilitate this project. It's wonderful to see how the collaboration between local children and a renowned artist has led to such an exciting new artwork. Ramsgate is home to a diverse and creative community, as well as being rich in history and we look forward to seeing the work installed in the town just as the Royal Harbour celebrates its bicentenary."
2021 is Turner Contemporary's 10th Anniversary and this project is a key part of the gallery's activity. Turner Contemporary remains committed to working with children and young people across Thanet.
Every year Turner Contemporary works with thousands of children and young people from Thanet and Kent. Its innovative learning programme champions children's leadership through the arts, and it has to date worked directly with over 100,000 children and young people with a focus on inspiring change and raising aspirations through art and creativity.
More information
About Pioneering Places
Delivered by lead partner Creative Folkestone, Pioneering Places, led by Creative Folkestone, is part of the national Great Place Scheme and is funded by Arts Council England and the National Lottery Heritage Fund, with additional funding from Kent County Council, Thanet District Council, Canterbury Christ Church University, Artswork, the South East Bridge organisation, and support from Historic England.
The commission for Ramsgate is one of four projects in East Kent and complemented by others in Canterbury, Dover and Folkestone, each being led by cultural organisations to encourage local people to shape the place where they live. All the projects are working with Artswork's South East Bridge on a schools programme that will enable the young people taking part to work towards achieving Arts Award accreditation and the participating schools receive Artsmark status. They will be creating a programme of consultation, activity and artwork commissions at Folkestone Gasworks, Ramsgate Harbour, The Kit in Canterbury, and Fort Burgoyne in Dover, as well as the development of a Research Knowledge Base that brings together research on cultural placemaking, commissions articles and gathers and disseminates feedback from the four projects.
More information about Pioneering Places and access to the Research Knowledge Base can be found at www.culturalplacemaking.com or by following Pioneering Places on Twitter at @PioneeringEK.
About Conrad Shawcross
Conrad Shawcross RA (b. 1977) is a British artist specialising in geometric and mechanical sculptures based on philosophical and scientific ideas, which often pay tribute to some of the great pioneers and analysts of our age. His works often appear to be useful, forcing the viewer to consider their purpose or function. Yet they remain illusive, denying any final definition to remain in the realm of the metaphysical and conceptual. Through their failure as systems and models, they succeed as artworks, asking questions rather than answering them.
Conrad has completed a number of major public commissions across the world, including Paradigm outside the Francis Crick Institute at UCL in London and the 18-metre tall Exploded Paradigm inside the atrium of the Comcast Technology Center in Philadelphia. He has exhibited at institutions across the world, including Palais de Tokyo in Paris, Mori Art Museum in Tokyo, the Museum of Old and New Art in Tasmania, Wadsworth Atheneum in Connecticut, USA, the National Gallery in London, and ARTMIA in Beijing. He is represented by Victoria Miro in London and Tucci Russo in Italy.
About Assemble
Assemble is a multi-disciplinary collective working across architecture, design and art. Founded in 2010 to undertake a single self-built project, Assemble has since delivered a diverse and award-winning body of work, whilst retaining a democratic and co-operative working method that enables built, social and research-based work at a variety of scales, both making things and making things happen. Throughout the project, the children have been working with Turner Prize winning collective Assemble who have supported the delivery of school sessions with a framework focusing on research in the built environment. Assemble produced a 'toolkit' which reflects the methodology used and the learning gained by this process.
About Turner Contemporary and its work with children and young people
Turner Contemporary is one of the UK's leading art galleries, showcasing world-class exhibitions. Since opening, Turner Contemporary has welcomed over 3.5million visits, put over £70million back into the Kent economy and connected with thousands of people from the local community. It is widely recognised as the catalyst for the regeneration of Margate and East Kent. The gallery has a track record of transforming lives and driving real positive impact through the arts.
Every year Turner Contemporary works with thousands of children and young people from Thanet and Kent. Its pioneering learning programme champions children's leadership through the arts, and it has to date worked directly with over 100,000 children and young people with a focus
on inspiring change and raising aspirations through art and creativity.
2021 is Turner Contemporary's 10th Anniversary and this project is a key part of the gallery's activity and continued commitment to working with children and young people across Thanet as it marks 10 years since opening