Announcing our ambitious town wide programme of art and creativity as part of Turner Prize 2019
This autumn, Turner Contemporary will host Turner Prize 2019, one of the best-known prizes for contemporary arts in the world. In response to this major moment for Margate and Kent, the gallery and partners will develop an exhilarating and ambitious arts programme. This follows a successful bid to the Arts Council for £219,000 of National Lottery funding as well as further contributions from Kent County Council, Thanet District Council and Dreamland Margate.
The programme, which will take place alongside the Turner Prize 2019 exhibition, has been developed in collaboration with partners. This includes: Margate Festival, Open School East, Resort, 1927, Crate and Limbo Studios, Dreamland Margate, Kent County Council and Kent Libraries, Thanet District Council and local artists. Together, the partners will deliver a town wide programme of arts, activities and events in response to the once-in-a-lifetime moment of Turner Prize 2019 coming to Margate.
Among other highlights, the programme will see the expansion of Margate Festival, which has been running since 2013, with a significant increase in open calls for local artists and new artworks throughout Margate. Margate Festival will also connect artists with businesses, taking the programme across the town. Dreamland will programme two special events supporting the night time economy during the autumn season.
Visit the Margate Festival website
Turner Contemporary will commission an artist to develop a significant new digital artwork, inspired by JMW Turner's passion for technological innovation. The gallery, and commissioned artist, will collaborate with members of the public at Kent libraries and shopping centres to generate content for this spectacular new work. It is anticipated that it will appear on Turner Contemporary's building during the autumn season.
Margate based theatre company 1927 will map vivid animations, created by 75 local young people, onto buildings around Northdown Road and the High Street. Visitors can expect a series of magical moments as they journey through the evening streets. Open School East will work with Cliftonville residents to devise an artwork with an artist on Northdown Road designed to expand the programme beyond the seafront.
Once the town wide programme is in place, Turner Contemporary will work with children and a designer to create a child's view of the town and realise an exciting new map drawn from their perspective. The gallery will also train over new volunteers who will greet visitors and act as guides to all the events and happenings across the town.
The insights and experiences gathered from this major cultural programme spanning across Kent will be shared with Coventry 2021, who have won the title of UK City of Culture for 2021.
The programme will be launched at Pie Factory Margate on Friday 15 February 2019 from 5pm to 8pm. The Margate Festival team will also be available for discussions from Saturday 16 to Wednesday 20 February 11am to 3pm each day.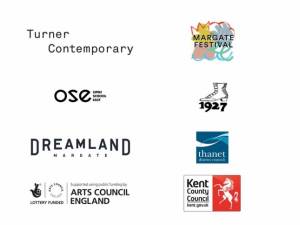 Partners: