Announcement: 'In The Offing', a group exhibition edited by and featuring Mark Leckey
In The Offing
Edited by and featuring Mark Leckey, with ANGUSRAZE, Lucy Duncombe,
Theo Ellison, Ashley Holmes + Seekersinternational, Darren Horton,
Lost at Sea Project, nakaya mossi, Charlie Osborne,
Alessandro Raho, Hannah Rose Stewart + Blackhaine, and Iceboy Violet
7 October 2023 – 14 January 2024
Press View: Thursday 5 October 11.30am–1.30pm
Turner Contemporary presents In The Offing, a group exhibition devised by renowned Turner Prize-winning artist Mark Leckey (b. 1964, Birkenhead). Embracing a dual role in this exhibition, Leckey serves as both artist and editor, utilising the concept of a magazine editorial as his foundation to choreograph an experience that seamlessly blends moving image, sound, light, and painting throughout the galleries. The phrase 'in the offing', dating back to the late 1700s, evokes the image of the distant sea visible from the shoreline and carries a sense of anticipation and foreboding, hinting at what lies on the horizon. Leckey has commissioned artists and musicians to make work responding to this title and will himself present a new video. The exhibition is the culmination of a multi-year project generously funded by Freelands Foundation as the Principal Supporter.
Since the late 1990s, Leckey's influential practice has explored the relationship between popular culture and technology, and ideas around youth, class and nostalgia. Over the past six years Leckey has hosted a programme on NTS Radio presenting experimental music by emerging and established artists, several of whom will be featured in the exhibition alongside visual artists. The commissions will encompass themes of the horizon, the seaside, the past and the future, and will resonate with the wider social and political context of British coastal towns. Also inspired by Dreamland – the amusement park and music venue on Margate seafront – Leckey's immersive approach in programming moving image, sound and light to appear and flow throughout the exhibition spaces, will give visitors the experience of both a gallery and fairground attraction.
Participating artists will include ANGUSRAZE, Lucy Duncombe, Theo Ellison, Ashley Holmes + Seekersinternational, Darren Horton, Mark Leckey, Lost at Sea Project, nakaya mossi, Charlie Osborne, Alessandro Raho, Hannah Rose Stewart + Blackhaine, and Iceboy Violet. Further details of the commissions will be announced in September.
As part of In The Offing, Leckey conceived and hosted Salamagundy '22 in December 2022 – a Variety Show which brought an eclectic line-up of artists to Dreamland's iconic Roller Room to explore ideas around modern entertainment and contemporary art practice. The event was a Creative Estuary Co-commission, delivered by the Emerging Producers, a group of eight local young people, selected as part of Creative Estuary's Re:Generation 2031 programme which provides employment and skills development in the creative industry.
The exhibition will be curated with Melissa Blanchflower, Senior Curator, Turner Contemporary and will be accompanied by a live programme, details of which will be announced in September.
Mark Leckey said: "Spending time in Margate, where the horizon is ever present, I found out the origin of the phrase 'in the offing' and its sense of the near future moving inexorably towards us. I wanted to see how young artists and musicians would respond to this idea of the offing, with its sense of promise and foretelling, of auguries and harbingers, of looking out to the horizon to see what is coming."
Clarrie Wallis, Director of Turner Contemporary said: "I am delighted Turner Contemporary will present In The Offing, a group exhibition by Mark Leckey, one of today's most exciting artists. Inspired by magazine editorials, Leckey will blend painting, moving image, sound and light to create an immersive experience. The title 'In The Offing' captures the sense of something on the horizon, soon to come.
We are grateful to our Principal Supporter, Freelands Foundation, for their unwavering generosity during these challenging times in the arts sector. Their multi-year collaboration and commitment to developing an exhibition model that resonates with new and existing audiences has been invaluable. We also thank Creative Estuary. Their two-year programme with the Emerging Producers will further enrich opportunities for young people in Kent interested in careers in the creative industries."
Clore Learning Studio
Over the course of two years, the Emerging Producers have worked with Turner Contemporary to help research, develop and deliver a series of programmes. For In The Offing the group has worked alongside the gallery's Learning team to re-design the Clore Learning Studio space to create a hub for creativity, designed for young people of all ages to relax, reflect and experiment. This Creative Estuary Co-commission takes the form of a playfully designed space which takes inspiration from faded seaside resorts with a contemporary twist. During the autumn 2023 season, the space will host art workshops and the Children's Art Library during the day, turning into a music venue for emerging local talent on selected evenings, also programmed by the group.
The Emerging Producers are: Oliver Castle, Layla Crick, Oliver Fisher, Daniella Jasper, Miroslava Karaskova, Eridanus Kyren, Phillipa Raye and Stuart Rayner, led by Jennifer Scott, Learning & Engagement Manager at Turner Contemporary.
Arts Education Exchange Music and Video Lab
Following on from Leckey's Music and Video Lab run with CAST, Cornwall, in summer 2022, Turner Contemporary has partnered with Arts Education Exchange to deliver a Lab in Margate. The initiative is designed to create a space for experimentation and discovery through video editing, music production and digital media for young people aged between 18 and 25 years. The short course will run during In The Offing and in collaboration with AEE Tonetic Records, a youth-led record label, introducing musicians and industry professionals to young people and providing mentoring and masterclasses. Outcomes of the Music and Video Lab will be showcased via NTS Radio and at Turner Contemporary.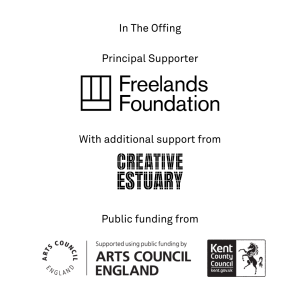 – ENDS –
Notes to Editors
For press and other media enquiries, please contact Rees & Co:
Yasmin Hyder
yasmin@reesandco.com
+44 (0)20 3137 8776
Address
Turner Contemporary
Rendezvous
Margate
CT9 1HG
Opening Hours
Monday: Closed
Tuesday – Sunday, plus Bank Holidays: 10am – 5pm
Winter Hours from 1 November
Wednesday – Sunday, plus Bank Holidays: 10am – 5pm
About Mark Leckey
Mark Leckey (b. 1964, Birkenhead) is a contemporary artist working with a variety of media including film, sound, sculpture and performance. His work explores the relationship between popular culture and technology and explores the subjects of anxiety, class and nostalgia. In 2008 he won the Turner Prize for his exhibition Industrial Light and Magic. He has had numerous solo exhibitions including: Tate Britain, London (2019); MOMA PS1, New York (2016-17); Haus der Kunst, Munich (2015); the Hammer Museum, Los Angeles (2013); and the Serpentine Gallery, London (2011). He has participated in the Carnegie International (2013), the 55th Venice Biennale (2013), and the 8th Gwangju Biennial (2010). Leckey lives and works in London.
About Turner Contemporary
Turner Contemporary is one of the UK's leading art galleries. Founded to celebrate JMW Turner's connection to Margate in 2001, the David Chipperfield designed gallery opened in 2011. Our work extends beyond showcasing world-class exhibitions, to driving the social and economic regeneration of Margate and East Kent and transforming lives in one of the most deprived areas of the UK.
Since it opened, Turner Contemporary has welcomed over 4 million visits, put over £70 million back into the Kent economy and connected with thousands of people from the local community through our world class programme.
Entry to the gallery and all of our exhibitions are free. To ensure our doors stay open to all, we rely on donations from individuals as well as trusts and foundations. Visit turnercontemporary.org to find out more.
Supporters
In The Offing is the culmination of a multi-year project, called O Dreamland, generously funded by Freelands Foundation as Principal Supporter, with additional support from Creative Estuary.
Turner Contemporary receives public investment from Kent County Council and Arts Council England.
Freelands Foundation
Freelands Foundation works to broaden access to art education and the visual arts across the UK.
We work with teachers and educators to develop diverse and ambitious approaches to art education. We support artists and arts organisations across the breadth of the UK to develop and present original ideas and practices. We commission research that explores the value that art and culture bring to society.
Our initiatives include a unique programme of residencies, workshops, films and resources for art teachers and educators; the annual Freelands Award championing mid-career women artists; and the Freelands Artist Programme supporting emerging practitioners in England, Scotland, Wales and Northern Ireland. We fund art organisations across the UK to expand their work within their communities.
Our London project space in Chalk Farm houses workshops, discussions, exhibitions, films, residencies and an extensive library, which explore new approaches to teaching, learning and making art.
Freelands Foundation was set up in 2015 by Elisabeth Murdoch. It is a registered charity (number 1162648).
Creative Estuary
Creative Estuary has a vision to forge a new future founded on creative energy and innovation, along the length of the Thames Estuary. Our deeply networked programme builds leadership, capacity and space for creative production, accelerating cultural impact of the Estuary. During phase 1 of Creative Estuary our Co-commissions supported a wide range of cultural projects with new commissions for Estuary-based producers and artists, from activity for emerging cultural activists to large scale commissions with a diverse mix of partners. The Co-commissions raised widespread awareness of existing creative talent across the region and supported creative practitioners and organisations to make and present new work. We are committed to engaging our local communities to contribute to their creative identity and will give artists, organisations and creative practitioners opportunities and support to help them realise their creative ambitions. Also during phase 1 of Creative Estuary our Re:Generation 2031 programme worked to empower more young people to access creative careers and develop the skills they need to lead new commissions, produce events, create the jobs of the future and make the Estuary a creative production hub. We championed the next generation of creative talent and future cultural leaders in the region by giving them new access to training, mentoring and aspirational opportunities.
Between 2019 and 2023, phase 1 of Creative Estuary was supported by the Department for Digital, Culture, Media and Sport who funded the Cultural Development Fund which was administered by Arts Council England. In April 2023 we were awarded Place Partnership Project funding, supported using public funding by Arts Council England, to continue our work for the next three years. Further information about Creative Estuary can be found at www.creativeestuary.com, Twitter @creativeestuary / LinkedIn creative-estuary / Instagram @creativeestuary.