A Year To Read The World
Foyle Rooms
Want something new to read? Of course you do! Not sure what? Then join local mavens Ann Morgan and Andy Miller for pure inspiration.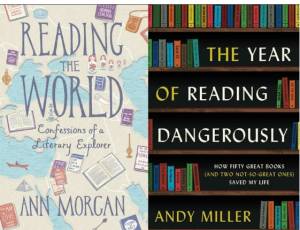 In 2012, Ann Morgan set herself the challenge of reading a book from every country on Earth. The project kickstarted one of her own, Reading The World: Confessions of a Literary Explorer, which proved the power of reading and how stories can bridge political and religious divides.
Andy Miller's writing has appeared in numerous publications, including the Times, the Telegraph, the Guardian, The Idler, Esquire and Mojo. He's worked with Charlie Brooker, Stewart Lee, the League of Gentlemen, Sacha Baron Cohen and Count Arthur Strong, amongst many other. The Year of Reading Dangerously was published by 4th Estate/HarperCollins.
Dale Shaw's our host. You've probably chortled at a few of his quips already having written for Russell Howard's Good News, Radio 4's That Mitchell and Webb Sound and School of Comedy. Dale is also a Margate Bookie regular and runs several of our workshop programmes at Margate Library. He's also a dab hand at audio too producing BBC series, Unpopped.
About Margate Bookie
The Margate Bookie is a registered charity (number 1174819) which works to encourage a love of literature. They have held a literary festival in Margate every year since 2015. Lovingly looked after by Andreas Loizou.