Banned.
Clore Learning Studio
Banned. is part of a two-year project led by Sabina Desir, Artistic Director and Creative Producer of the Ramsgate-based Freedom Road Project.
Banned. is part of a two-year project led by Sabina Desir, Artistic Director and Creative Producer of the Ramsgate-based Freedom Road Project. Being classified as an outsider both racially and demographically has placed Sabina in a position of objectivity for researching and presenting this work to the public in a way that highlights our shared values instead of our differences.
Prompted by a 1957 archived newspaper article in the East Kent Times, Sabina was compelled to look at the issues of place, belonging and identity that remain prominent in all aspects of contemporary life.
Between 1951 and 1958, there were 2,500 United States (US) Air Force servicemen and servicewomen stationed at RAF Manston, located outside Ramsgate. Of these, 200 were African American, and there were also non-white American personnel from indigenous and other ethnic groups.
US airmen abroad still had to obey stateside legislation, including observance of Jim Crow laws, which were statutes enforcing segregation and marginalisation of non-whites by denying suffrage, education, freedom of movement, employment, and other basic rights. Defiance of Jim Crow laws commonly resulted in verbal abuse, fines, arrests, jail sentences, physical violence, and death.
US Armed Forces encouraged the establishment of similar segregationist practices within Ramsgate's local communities and further afield. On 7 August 1957, the East Kent Times reported that Ramsgate's Mayor, Alderman Rev. Harcourt-Samuels, sought an 'out of bounds' order banning all American servicemen stationed at RAF Manston, from Ramsgate. The newspaper downplayed this and concluded that there was no 'colour bar'. Numerous Ramsgate residents wrote to the paper disagreeing with the paper's dismissive assessment. They suggested that the order was in fact intended to restrict movement of all non-white airmen to RAF Manston. The unprompted advocacy of these Ramsgate residents ensured that news of the ban continued to travel far beyond their area.
These lesser-known events and accounts of military history, migration and transit deserve attention because they have played a role in shaping British history on a local and national level. The willingness of some Ramsgate residents to welcome and interact with all airmen, despite dealing with the aftermath of WWII, demonstrates a general hospitality regardless of race. It is noteworthy to mention the way these residents actively fought against their own town council to gain access for African American and Native American airmen.
To edit historical literature, however uncomfortable the language might make us feel, is to collude with the erasure of the legacy of those who came before us.
Sabina Desir
Artists: Richard Birch, Charlie Evaristo-Boyce
Produced and Curated by Sabina Desir for Freedom Road Project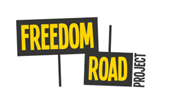 Supported by