Margate NOW Festival
Margate NOW is an ambitious and dynamic festival of art, events and performances, running alongside the Turner Prize 2019.
Margate NOW is a bold programme of art, performance, and creativity in unusual spaces across Margate involving over 500 artists. This year's programme is guest curated by Russell Tovey.
Interact with unique artworks, immerse yourself in one-off performances, discover artists' studios, get creative and explore the town in a new light. Margate NOW is supported using public funding by the National Lottery through Arts Council England.
See the full programme on the Margate Festival website.
Tell us about your experience of Margate NOW:
Fill in this short survey to help Margate NOW improve their events and programming.
Whether you are in Margate for the whole day, or only have an hour to spare, here is what you can do to make the most of your visit.
Here for 30 minutes?
Why not visit the new interactive commission on our terrace from Yuri Suzuki that uses artificial intelligence to bring together digital sound and sculpture?
Don't forget to sing or speak into the unique sculpture and have your contribution added to the ongoing machine learning.


Here for an hour or more?
Why not venture into the town and discover a variety of exhibitions and displays?
Visit artist studios, galleries, theatres and other unexpected places across the town, including Resort, Crate and Limbo where there will be new work and exhibitions on show.
Look out for old photographs that aren't all that they seem, hidden in the vintage, junk and charity shops of Margate as part of Anachronopolis by Sadie Hennessy. Or take a short walk over to Liddicoat & Goldhill Project Space, and discover Leigh Clarke's Last Night At the Bingo.
Head over to the Margate NOW What's On guide, filter to the days that you are here, and see something new!
Here for the whole day?
Make the most of your visit by exploring more of the exhibitions, performances and artworks on show as part of Margate NOW.
Why not take a stroll up to Cliftonville and stop en route to see Heather Tait's Cliftonville West 2014 – 2019, a photographic snapshot of the community that Heather lives in. Or discover 1927's Raree Tales, a series of 7 animated folk-tales made in collaboration with Margate Primary School pupils. The tales will be shared in a bespoke Raree Boxes at 7 locations across Margate from 1 December – 12 January. Find out more.
Head over to the Margate NOW What's On guide, filter to the days that you are here, and see something new!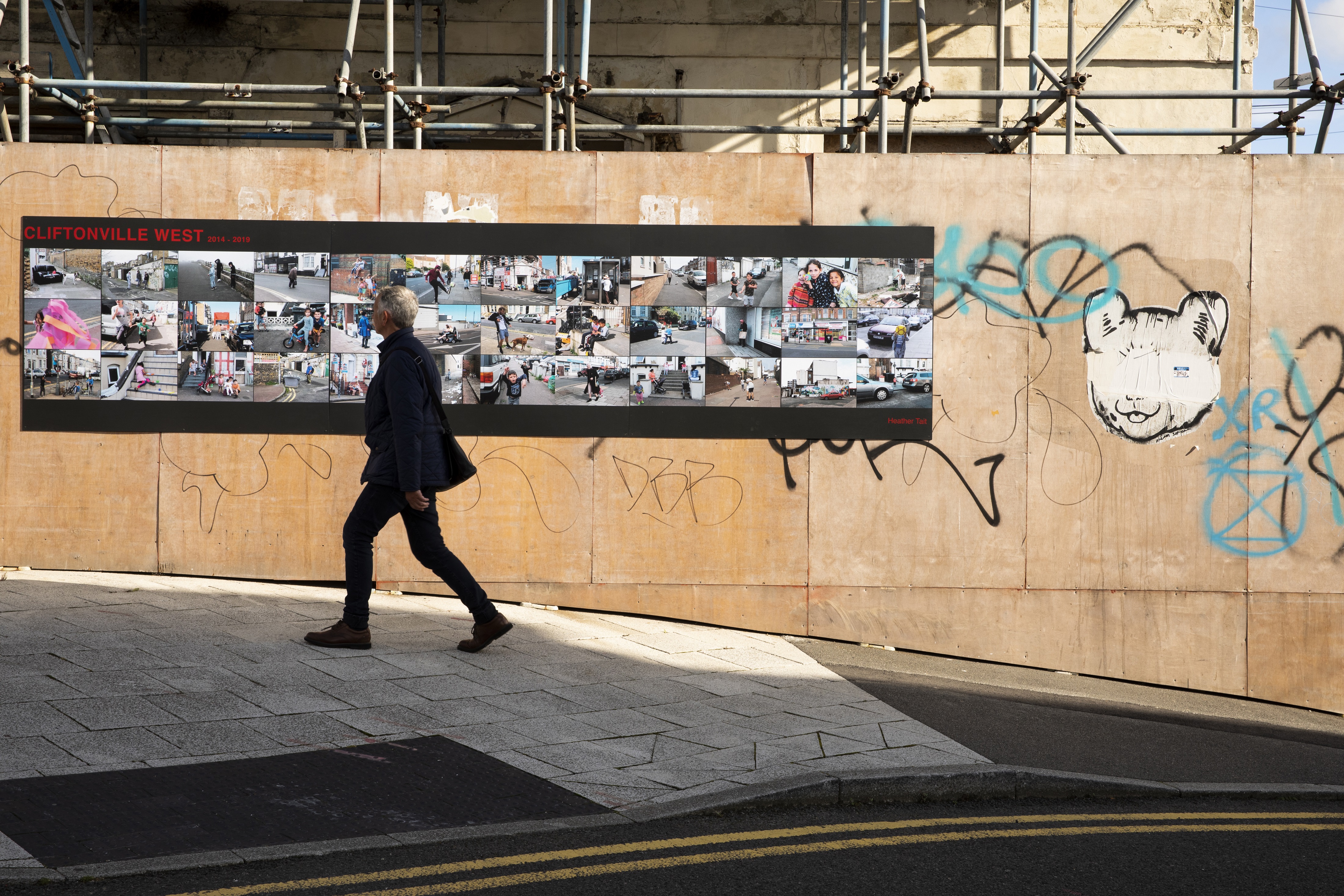 Here for the weekend?
Don't forget to say hello to our friendly volunteers who can tell you all about the specific events and exhibitions happening during your visit. You can find our volunteers by the new creative installation by Studio TAC at Margate Train Station.
En route to Margate Town you will come across Alex Chinneck's Alphabetti Spaghetti structure and Zoe Murphy's collection of printed fabric flags for a town and its people as part of Here, You Are Home.
I've always had a close relationship with art and began collecting art in my mid 20s whilst acting in The History Boys. Initially, I was excited by the buzz of investing in art and buying something that would outlive me. As my collection has grown my interest has developed into supporting emerging and mid-career artists as well as becoming a patron for a number of not-for-profit public art institutions. Margate NOW is such an exciting programme. Art can be powerful and engaging and I am looking forward to seeing the town brought to life in unusual, surprising and entertaining ways. I've really enjoyed helping to curate and select artists for the festival. It's great to be able to support and encourage the creation of new art and new ideas.
Russell Tovey – Guest Curator
Margate NOW has been developed by Turner Contemporary, Margate Festival, Open School East, 1927, Resort, Crate, Limbo, Dreamland Margate, Kent County Council and Kent Libraries, Thanet District Council and locally based artists. It is supported by Arts Council England through National Lottery funding, as well as contributions from Kent County Council, Thanet District Council and Dreamland Margate. Turner Prize 2019 is organised in collaboration with Tate.
Artists, Collectives and Companies:
1927 | Adam Carr & Jan Noble | Alex Chinneck | Anna Symes, Round in Circles | Anne Ryan & Andrew Child | Anthony Giles | Appletye | Art Car Boot Fair | Arts Education Exchange | Arts Emergency | Ash Mukherjee Dance Company | Bob Chicalors | Charlie Evaristo-Boyce | Coney | Connor Sansby | Dan Bass | Dan Scott | Dawn Cole, Dan Thompson, Tracey Thompson, Graham Ward | Emma Gibson | Free Range Orchestra | Genetic Moo | Heather Tait | Helen Whitehead | Holly Slingsby | Invisible Women | Jay Rechsteiner | Jemma Channing | Jessica Jordan-Wrench | John Hislop | Jordan Gray | Katie Fiore | Katrin Hanusch | Kavel Rafferty | Laura Durward & Emily Wood | Lee Cavaliere | Leigh Clarke | Liam O'Driscoll I Liene Steinberga Cesar | Looping the Loop | Lucy Lyons | Lunatraktors | Matt Mapleston | Maxine Sutton | Mel Cole | Open School East Associates 2019 | Power Monkey Sound Systems | Profanity Embroidery Group | RL-a | Roy Eastland | Ruth Fox | Sadie Hennessy | Sara Trillo | SLiDE Collective | Steve McPherson | studio TAC | Teresa Limbrick | Tom Verity, Melanie Wheeler I Transit Collective | Turner Contemporaries | Ty Locke | UK Arts International | Waste Free Fashion Collective | Well Projects | Yemi Awosile | Yuri Suzuki | Zoe Murphy
Participating Venues:
Bon Volks | Carl Freedman Gallery | CRATE | Dreamland, Margate | Gordon House | Joseph Wales | Kill Me Now | Liddicoat & Goldhill Project Space | Limbo | Lombard Street Gallery | Lovelys | Margate Station | Marine Studios | Margate WI | Northdown Studios | Olby's | Pie Factory Margate | Pump House Yard | RESORT | Theatre Royal Margate | Tom Thumb Theatre | Turner Contemporary | Windmill Community Gardens